Experience unique music and written works by Speak Percussion and writer Claire G. Coleman, inspired by Bundoora Homestead and the Darebin Art Collection, from the comfort of your own home.
HOME DELIVERY PACKAGE
Before Nightfall is a series of artistic encounters between Speak Percussion and guest artists, working intensively in a site-specific location across a single day, culminating in a live performance that night.
Before Nightfall #13 is a collaboration with Bundoora Homestead and writer Claire G. Coleman, and draws inspiration from a video artwork featured in the Darebin Art Collection - Collider by Jon Butt.
One day. Three musicians. One writer. Four new original pieces of work.
Due to the physical distancing restrictions of COVID, all artists worked, performed and recorded their new pieces, in isolation and across the space of one day, onsite at the Bundoora Homestead.
As a gift to our absent audience, the works have been packaged onto a limited edition USB and will be presented alongside writing by Claire. G Coleman and images of the artists, artworks and Homestead. All you need to do is register to receive this unique home delivery.
Sit in your favorite chair, don your headphones and take an aural journey, inspired by Collider and the Bundoora Homestead.
COLLIDER AT BUNDOORA HOMESTEAD
Collider is a site responsive video work by Jon Butt, filmed on location at the Bundoora Homestead. The work investigates the physical and conceptual notions of landscape as matter and phenomena.

To complete the Before Nightfall #13 experience, you are invited to visit the Bundoora Homestead and view the video artwork Collider, in full.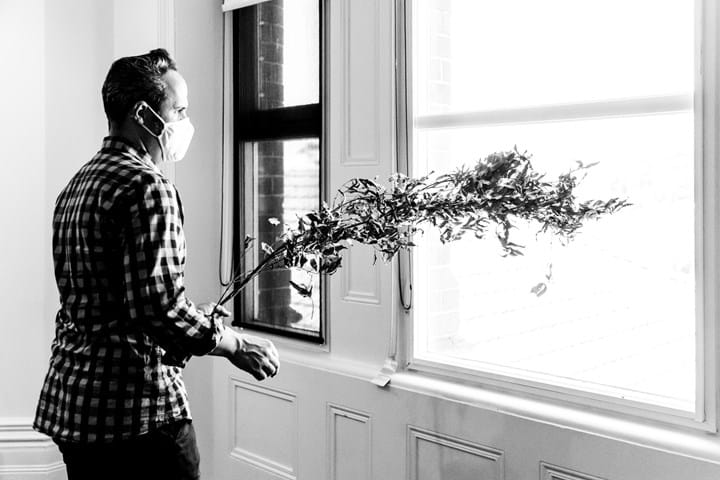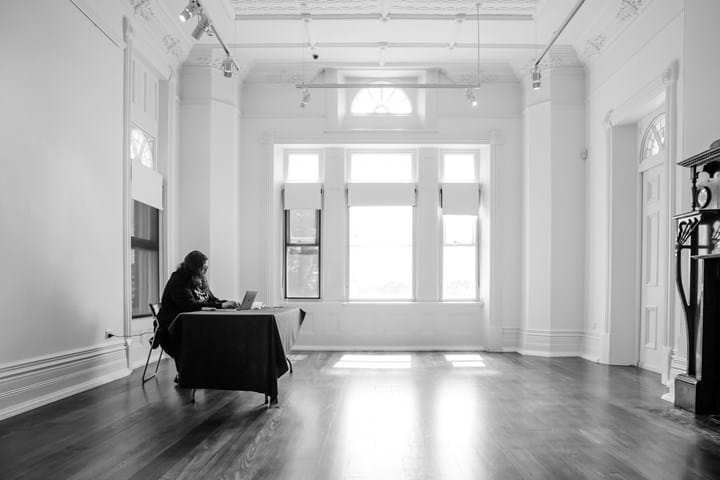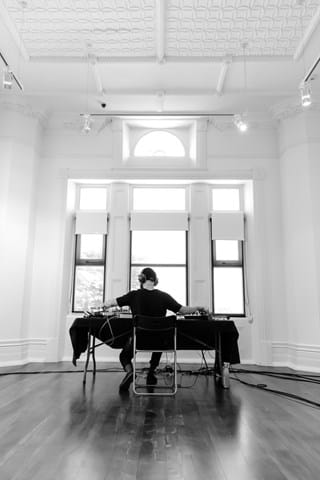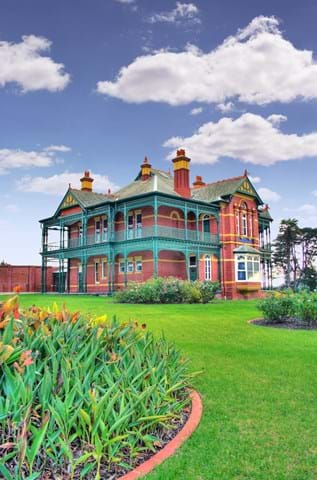 Speak Percussion
Based in Thornbury, Speak Percussion has shaped the sound of 21st century Australian percussion music through the creation and presentation of ambitious arts projects. Internationally recognised as a leader in the fields of experimental and contemporary classical music, Speak is constantly seeking to redefine the potential of percussion.
Ranging from solo concerts to massed sound events, Speak Percussion's "breathtakingly impressive" (The West Australian) work is presented throughout the world in concert halls, theatres, galleries and site-specific locations. Speak Percussion has been responsible for over 130 commissions and premieres of new percussion works, Speak Percussion has contributed new 21st Century masterworks to the global percussion repertoire.
EUGENE UGHETTI

Musician

Eugene Ughetti is the founding artistic director of Speak Percussion and is known for tackling complex and ambitious projects whether as director, composer, performer or conductor. He has worked with some of the world's guiding lights in new music including Pierre Boulez, Liza Lim, Steve Reich and John Zorn. Eugene's works have been presented at Darmstadt (Germany), Roulette (USA), SONICA (UK), Ruhrtriennale (Germany), Mona Foma (Australia), Arts Centre Melbourne (Australia), MONA FOMA (Australia), Lucerne Festival (Switzerland), Ars Electronica (Austria), SIPFest (Indonesia), National Museum (Singapore) and Transart (Italy) among others.

TILMAN ROBINSON

Musician

Tilman Robinson is an Australian composer, producer and sound designer based in Melbourne. He creates electro-acoustic music across a range of genres including classical minimalism, improvised, experimental, electronic and ambient musics. Academy trained in the fields of both classical and jazz composition, Tilman's diverse output focuses on the psychological impact of sound using acousmatics and subtle manipulations of psycho-acoustics.

KAYLIE MELVILLE

Musician

Melbourne-based percussionist Kaylie Melville is a soloist and chamber musician dedicated to contemporary music performance. Noted for her "extraordinary ability to impart a sense of musicality to even the smallest gestures" (Partial Durations), Kaylie is a core artist with new music pioneers Speak Percussion, a co-director of the contemporary ensemble Rubiks Collective and frequently works with leading Australian ensembles and orchestras. In addition to performance, her practice incorporates improvising, directing, curating and education.

CLAIRE G. COLEMAN

Writer

Claire G. Coleman is a Noongar woman whose family have belonged to the south coast of Western Australia since long before history started being recorded. She writes fiction, essays, poetry and art writing while either living in Naarm (Melbourne) or on the road.

During an extended circuit of the continent she wrote a novel, influenced by certain experiences gained on the road. She has since won a Black&Write! Indigenous Writing Fellowship for that novel ,"Terra Nullius". Terra Nullius was published in Australia by Hachette Australia and in North America by Small Beer Press.

Since mid 2020 Claire has been a member of the cultural advisory committee for Agency, a Not-for-profit Indigenous Arts Consultancy.

JON BUTT

Video Artist, Collider

Jon works across mediums that include video, photography, sculpture, installation and site responsive work. He is motivated by a mix of field research, science fiction/fact and a love of mysterious stories illustrating the weirdness and wonder of quantum realities hidden just under the surface of everyday life. With 25 years' experience Jon's work has been seen in over 53 exhibitions nationally and internationally and his work is included in public and private collections.

 
| | |
| --- | --- |
| SHEAH SUTTON | Sheah's current role is Executive Producer at Speak Percussion. Prior to this she held Executive Producer positions at Arena Theatre Company, where she managed the regional relocation of the company, and Snuff Puppets. Other roles include General Manager of Midsumma and Administration and Finance Manager at The Song Room. Sheah has also worked as Program Manager at Arts Victoria (now Creative Victoria), managing the Local Festivals and Artists in Community funding programs. |
| MICHAEL HEWES | Audio Recording and Mixing |
| BOE-LIN BASTIAN | Curator, Bundoora Homestead |
Accessibility
Dates & Times
Before Nightfall #13 Home Delivery Package

Avaiblable from 11 March until 'sold 'out'

Viewing of Collider video artwork

Thursday 11 - Saturday 13 March, Wednesday 17 - Satuday 20 March, Wednesday 24- Saturday 27 March

- 11.00am-4.00pm
Tickets
| | |
| --- | --- |
| To receive your Before Nightfall #13 Home Delivery Package please register using the button on this page. | |
| Entry to Bundoora Homestead to view Collider by Jon Butt is free. | |
Location
Bundoora Homestead Art Centre
7 Prospect Hill Dv, Bundoora VIC 3083
Get directions
Tram
Route 86, Stop 63
Bus
Route 382, 566
Event notes
Home Delivery Packages
100 Home Delivery Packages are available. Following registration, the package will be sent to your home. The performance component of the package goes for approximately 45 minutes.
Viewing of Collider video artwork
The video work will be presented at Bundoora Homestead. The video work goes for 13 minutes.