FUSE Curator in Residence Program
FUSE Curator-in-Residence Program
The FUSE Curator-in-Residence Program gives Darebin artists and curators a paid opportunity to create new works within a festival context.
In collaboration with FUSE, curators lead the design and delivery of FUSE signature events, typically the Opening or Closing experiences in Autumn or Spring.
Curators can be selected via submission or invitation, and opportunities are supported with a budget to create the work. Also included is access to a producer with arts diversity expertise, as well as festival services such as in-house production, marketing and cultural consultation. 
The Curator-in-Residence program highlights inclusive and artist-driven works. Anyone can apply, but priority is given to curatorial frameworks that features artists and performers from diverse backgrounds. 
Want to know more? Contact us: fuse@darebin.com.au.
Learn more about our current and past curators below.
FUSE SPRING 2023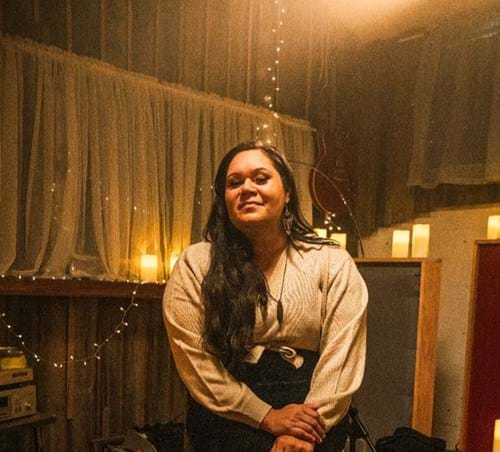 Photo credit: Jacinta Keefe 2023, taken at Aviary Studios in Abbotsford for the shooting of her single, This Is For Us as part of the Singing Our Future program with The Archie Roach Foundation.
Introducing Maylene Yinarr, our new Fuse Festival Curator in Residence! Maylene is busily working behind the scenes programming FUSE Spring's opening event, Ganbu Gulin Ceremony.
Introducing Maylene, our current Fuse Festival Curator in Residence! Maylene is busy working behind the scenes programming FUSE Spring's opening event, Ganbu Gulin.
Hailing from Naarm, Melbourne, on Kulin country, Maylene brings a wealth of experience across a decade of work in the Victorian Aboriginal and Torres Strait Islander community as a First Nations singer-songwriter, mentor, writer, activist and grassroots community worker and a deep connection to her community. Inspired by her family, she envisions a future where Aboriginal women lead in all sectors.
Maylene champions self-determination, the right to heal as a family and nature-based medicines from here and around the world. In the spirit of NAIDOC Week 2023 'For Our Elders', this theme for Ganbu Gulin is Lore.
It holds special significance in honouring the rites of passages led by the Wurundjeri Elders and Ancestors and celebrating Indigenous cultural healing practices by bringing an emerging healing space, The Mindful Mob Healing Markets to this year's event.  With a background in children's rights advocacy, international relations, life coaching and a love for music, Maylene believes in healing through the ancient roots of all cultures, supporting collaborative relationships and upholding a ceremonial space for all to heal together.


FUSE AUTUMN 2023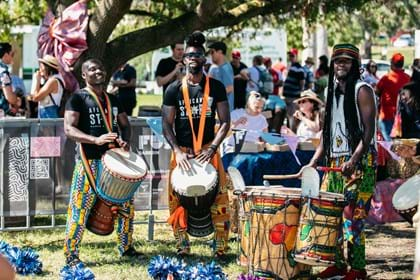 Edward Eshun aka Kofi Shabba is a long time Darebin personality and has a history of working in the area bringing together community and is passionate about teaching all people about African culture and tradition. Specialising in delivering impressive performances, workshops and classes African Star provides inclusive & authentic West African cultural experience.
High energy and sure to create a memorable experience for everyone. For Out of the Park Picnic - the community is invited to rehearse with African Star and or turn up on the day to get involved in sharing a whole lot of drumming movement or rhythmic fun!
FUSE AUTUMN 2023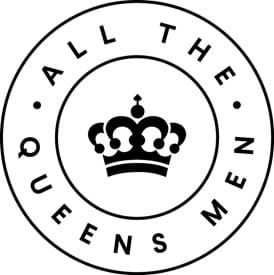 All The Queens Men is one of Australia's leading independent community-focused contemporary arts
organisations. The company collaborate with communities of all shapes, sizes, and identities to produce transformative creative experiences that champion equality, social health, and human connection. Led by Tristan Meecham and Bec Reid, All The Queens Men values radical optimism, pride, activism, generosity and respect. With 30+ years of combined experience in community committed arts practice, All The Queens Men has presented leading large-scale community projects locally, nationally and internationally including at Ansan Arts Festival (South Korea), ANTI Contemporary Arts Festival (Finland), Arts Centre Melbourne, Arts House (Melbourne), Bleach Festival (Gold Coast), City of Melbourne, Darwin Festival, National Theatre of Scotland / Eden Court Theatre / Luminate Festival (UK), Next Wave Festival (Melbourne), Sydney Festival, Taipei Arts Festival (Taiwan) and West Kowloon Cultural Arts District (Hong Kong) among many others.
FUSE SPRING 2022

Sofii is a Yorta Yorta, Wiradjuri, South Sea and Meriam woman who has lived in Naarm on Wurundjeri Country all her life. She grew up in Preston and now resides in Fitzroy. She is a qualified Youth Worker and multidisciplinary artist, specialising in photography, ceramics and painting on fabric.
Sofii is a member of the Yirramboi Advisory Group, and a producer for the Ilbijerri Theatre Company's 30th Year Anniversary Event. She is currently working towards exhibiting pieces in collaboration with other artists for the Sydney Road Blaks exhibition at Counihan Gallery in Brunswick.
She is passionate about working with and for her community in the creative industries, and specifically with Aboriginal and Torres Strait Islander young people.
FUSE SPRING 2022

Lucreccia is a sound artist, DJ, sound system operator and writer. She recently completed her PhD at Monash University, entitled: "Whose Myth? The Echo and the Diaspora". 
Recent works include Brian Fuata: A Generous Opacity, for the Anti LIVE Art International Award publication, Finland, and her recent sound work includes Call for Westspace Offsite. She has presented at the Sound System Outernational Conference in Naples, Italy and was a resident artist at the Banff Centre for Arts and Creativity, Canada.  
Lucreccia is also a sound system operator, having built General Feelings Sound, which was a part of Heavy Congress at Rising Festival 2022. She received the Australian Postgraduate Award for her research, as well as Vic Arts and Creative Victoria grants and the Freedman Foundation Travelling Scholarship.  
As an arts writer, Lucreccia edited the small publication, The Space in Which I Fit Won't Exist Until I Make it, featuring the writings of various radio, sound and music voices in Melbourne and Sydney Australia. Stay tuned for her musing on the ethos behind FUSE Block Party, FUSE's official closing event for 2022. 
FUSE AUTUMN 2022

Nartarsha Bamblett, known as Queen Acknowledgements, is a proud First Nations woman from the tribes of the Yorta Yorta, Kurnai, Warlpiri & Wiradjuri people, 
She's an educator, facilitator and mentor, helping people strengthen their connection to themselves, Indigenous culture and country. She is the Founder of Jina Jari Journey, which means Caring for Country, an embodied experience guided by Indigenous wisdom and wisdom of the country. 
As an Aboriginal woman and mother in the western world, she is always learning how to walk between two worlds. She's a storyteller who uses art and performance as pathways to help increase cultural understanding, and she's a former member of the First Peoples Treaty Assembly. She's also the first VFLW woman signed to Richmond Football club.  
Through ceremonial acknowledgements, women's circles and masterclasses, Nartarsha mobilises her knowledge and connection, bringing more understanding, healing and belonging into the world.  
Find out more about Nartarsha: https://www.instagram.com/queenacknowledgements/ 
FUSE AUTUMN 2022

Neda is an artist, composer, director, storyteller, advocate, facilitator, mentor, media commentator and all-round raconteur. She's Deputy Chair and a board member of MAV (Multicultural Arts Victoria), and she's an entrepreneur, too, acting as one half of Goodworthy, a social impact media company that puts people and the planet first. 
Neda is a cultural leader whose practice embodies inclusion, equity and justice. Her work is at the nexus of transformation, whether it's through her directorial experiences; her investment in capacity building with diverse young people; or her skilled facilitation of intercultural dialogue. 
Drumming culture, movement, collaboration and costuming are integral to her artistic expression. Neda has a passion for body art, body extension, audience interaction, fashion and costume design. She draws on her performance studies to deliver decadent concerts and roving musical entrances. Her practice melds contemporary and hereditary cultural practices that are thousands of years old.  
Neda's work is artfully presented to engage audiences in a profound conversation about what it means to live in a multicultural society. She commands the stage in concert with artists of colour from across our diverse community, and she challenges preconceptions of who is an artist and what is art.
This in turn demands from audiences a deep appreciation of our pluralism. Through courageous artistic risk-taking, Neda enables participation that transcends barriers and builds new forms of engagement.