Ganbu Gulin: One Mob Documentary
When a local council listens to its First Nations people it leads to a decision that could heal a nation.
Join us for the online premiere of this important documentary. Ganbu Gulin: One Mob tells the story of Darebin Council's decision to cease observing January 26 as Australia Day, and the evolution of an inclusive event that provides a platform for traditional owners to welcome new citizens in their own way.
This moving film documents the thoughts and feelings of those at the centre of this historic decision.
The film is no longer available to view online.
Background
On January 26 1938, the first Day of Mourning was held by a group of Aboriginal and Torres Strait Islander people protesting the 150th anniversary of British Colonisation of Australia. Since then, Aboriginal and Torres Strait Islander people continue to protest on January 26, which was established as 'Australia Day' in 1993.
Knowing the potential backlash from Federal Government in 2017, the City of Darebin decided to answer the call of the Darebin Aboriginal Advisory Committee and voted to mark January 26 as the day of British invasion and furthermore, to cancel Australia Day celebrations in respect of the mourning, grief and loss experienced every day by the valued First Nations community of Darebin. In a historic stand, the City Council calls for justice, healing and respectful reconciliation for all Indigenous and non-Indigenous people living on the lands now known as Australia.
Darebin City Council acknowledges the Wurundjeri people as the traditional owners and custodians of their land and pays respect to their Elders past and present. Darebin City Council would like to thank all Aboriginal and Torres Strait Islander people whom were part of the making of this film.
BENJAMIN THEODORE PEDERICK, WRITER/PRODUCER

Ben has directed and produced award winning films, television and digital features for broadcasters including National Geographic, Al Jazeera, Radio Free Asia, Discovery, Foxtel, as well as Australia's public and free to air stations. He has directed and produced multiple series and documentary investigations that have spanned the world, and is adept at planning and executing projects in multiple countries.

From Botswana's Bushmen to the Tibetan Champa, from homelessness on the streets of Australia, to refugees fleeing their homes in Indonesia, Syria and Turkey, Ben's work is always inspired by human diversity, and by the power of stories.

DANIEL KING, WRITER/DIRECTOR/PRODUCER

Descendent of the Yuin and Awabakal nations Daniel is a filmmaker that works in both factual and narrative forms as director but is also a skill camera operator and editor.

In 2001, Daniel graduated from RMIT with an Advanced diploma in Video Production and his final year film 'Mirror Images' starring Aaron Pedersen was selected for screening a numerous film festivals including the Tadawali Awards and the Rotterdam film festival. Daniel also has Masters of Film and TV in directing drama at the Victorian Collage of the Arts (University of Melbourne).

Daniel directed his first TV documentary with John Harding titled "The Fitzroy Stars" for the ABC program Message Stick in 2006. Daniel has since made numerous documentaries both nationally and internationally for broadcast including a feature length documentary titled Trading Cultures, broadcast by NITV /SBS.

Daniel has won a number of awards including NIMA for best music video 2018.
Event & ticketing details
Accessibility
Dates & Times
| | |
| --- | --- |
| Film available to view online | 4-19 September |
You might also be interested in...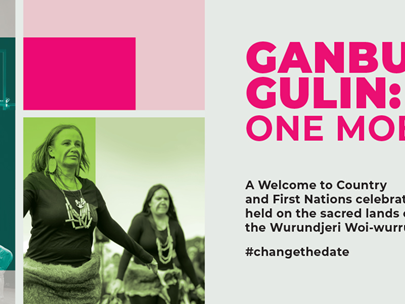 Ganbu Gulin is a culturally inclusive event that celebrates and recognises First Nations peoples, and invites all residents, old and new, to be officially welcomed onto Wurundjeri Country.
More info