Merri Creek and the Art of Detritus: an Exhibition 
A well-known Darebin identity and warrior woman, Lunt's passion, commitment, and cultural knowledge on land development and the Merri Creek is legendary. She was awarded the City of Darebin Lifetime Achievement Award in 2022. This year marks her 40th year volunteering along the Merri Creek. She has devoted her life to positive environmental outcomes, advocacy, animal care and conservation. Over the years, Carolyn has consistently demonstrated her commitment to these founding principles and has rewilded and maintained a significant section of the Merri Creek through the replacement of exotic weeds with Indigenous plants. The countless hours dedicated by Carolyn over the past four decades has seen tremendous environmental benefit to this section of the creek.
The planting of Indigenous flora provides an important food source and habitat for our native birds, animals, reptiles, and insects. During her work along the Merri Creek, Lunt has found an assortment of lost items and with them produced an eclectic collection of Textile/Mixed Media which is displayed here. These found objects including the frames are collected from the riparian zone, the waterway and from a one km radius from the Merri Merri.
Open daily during Library Hours
Opening: Meet the artist at the official opening on Wednesday 13 of September at 6.30pm Northcote Library. Register to attend here.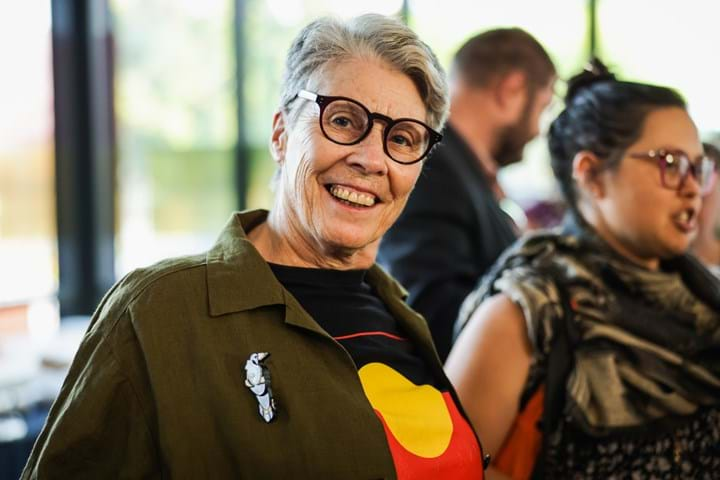 CAROLYN LUNT

The Artist Statement

I identify as a Contemporary Environmental Artist and Activist. I use found objects collected along a 1 km radius from the Merri Creek. Objects include wood, paper, plastics, metals and fabrics.

In 2016 I began collecting found objects (litter) to further make an important political statement into contemporary art forms. The effect of COVID waste has since added another dimension to this work. My work is informed by sculptor and assemblage artist, Rosalie Gascoyne (1917 -1999) as well as sculptor, Inge King (1915 -2016) with whom I studied and exhibited. Both artists have had a profound influence on my work, including my current practice. Another influence is via my long-term friend and collaborator, Gay Hawkes, whose broad practice also embraces furniture making from natural materials and objects washed up from the ocean.

My art practice is connected to country. My revegetation methods bring back food sources and habitats for native birds and wildlife in this specific Merri Creek environs. It is politically entwined with destructive human behavior and its impact on the health of the planet. For many years, I have been proactive in lobbying State and local governments to prevent litter entering the Merri Creek. Exhibition Curator - Louise Marsen. Carolyn was also one of the People's Choice Award winners for the A1 Darebin Art Salon 2023 at Bundoora Homestead with her work Fu*k Covid.
Event & ticketing details
Accessibility
Dates & Times
FREE

Saturday 2 September - Sunday 17 September

- Open daily during Northcote Library Hours
Location
Northcote Library
32-38 Separation St, Northcote VIC 3070
Get directions
Train
Northcote Station
Tram
Route 86, Stop 33
Bus
Route 508