Message from Another You: Q&A with Daz Chandler
What if you could communicate with a different version of yourself in a parallel universe?
That's the existential question asked by The Parallel Effect, the creative outfit behind our FUSE Spring 2022 event, Message from Another You.
At this exclusive happening, participants are invited to journey through a single-person, interactive adventure guided by a Many Worlds Traveller and by Everett, a benevolent chatbot from another dimension.
Over the course of this experience, our voyagers will learn about the Many Worlds Interpretation, and explore why humans are so fascinated by doubles and doppelgängers.
We spoke to The Parallel Effect's Daz Chandler to find out more about this bold venture.
Daz, please tell us about yourself.
I'm a multi-disciplinary artist with a background in broadcasting, documentary filmmaking, emergent tech and human-rights advocacy. Recently, I've been inspired by the possibilities of parallel worlds and the learnings we can apply to our own dystopian reality. I've been looking at the deep process of imagining and systematically understanding these multiple 'parallel presents.' Alongside an ever-growing collective of artists, scholars and First Nations storytellers, I have had the immense joy of instigating and developing a number of different experiences born of this framework.
How long have you been practicing your art?
Ha. As wanky as it might sound, a long bloody time! In terms of making physical works to share, I composed my first piece of piano music at age seven and wrote my first story shortly after. I'm not sure that it's ever entirely possible to separate the practice of art from the lens through which we experience life. I really believe that art is omnipresent, and I know that I'd be sincerely lost and bereft without it.
What inspires you as an artist?
I'm one of those humans who's simultaneously blessed and cursed to have an innately curious and inquisitive mind. Fortunately, however, this trait lends itself to finding inspiration in all sorts of places, from the intricate lace-work of lichen, through to emergent tech, to the tail-end of a conversation heard in passing on public transport.
Having said that, I certainly have a track record of being inspired by activists, mavericks and kooky and expansive thinkers, people who must persevere at their own pace and who, in doing so, perceive and live differently.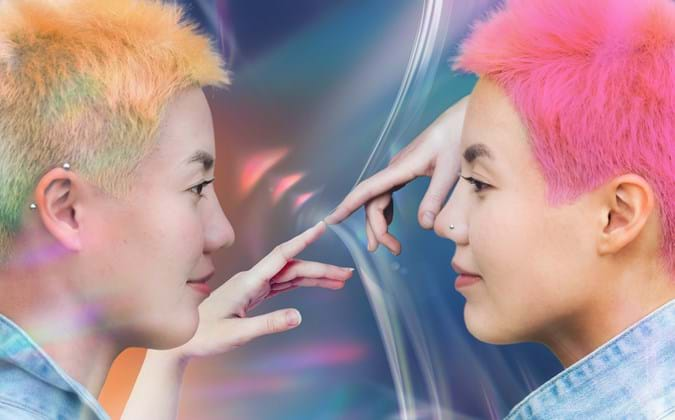 Tell us about Message from Another You.
Our event is a truly unique and trippy experience conceived at the height of Covid. It's a single-person, interactive adventure led by a Many Worlds Traveller and an altruistic chatbot from another universe.  Audiences can expect a 40-minute break from our reality, resulting in one of the infinite versions of themselves sending them a voice message from an entirely different paradigm.
When it comes to the genre conventions of popular film and fiction, I've often found it interesting to note how, in our reality, human-made machines are regularly demonised. They're so often rendered as evil, unstoppable forces devoid of any moral or ethical compass. Message from Another You challenges this all-too familiar storyline through a deliberate collaboration with the chatbot Everett, a truly altruistic algorithmic entity from another dimension. Everett has learned about ecological collapse, patriarchal capitalism and the other crises and injustices that plague our world. Everett is incredibly sympathetic to our plight. They believe that if humankind were to contact other versions of themselves, in worlds that have devised solutions to the problems we face, then important learning and enriching possibilities are likely to prosper.
What do you want audiences to take from your work?
Above all else, I suppose I want people to walk away from this experience with a sense of wonder and contemplation. Things have been pretty bleak in this reality, and at times of crises, I really believe in the importance of play and imagination. To me, these are the ingredients necessary for nourishing our thinking. They can arm us with fresh perspectives that relate to life and that can help us move through the world.
Finally, what do you think is the biggest challenge Australian artists face right now?
Survival. Bring on the artist wage scheme! It's time for us to rethink our national understanding of how artists earn their living so that we can support what should be a thriving and sustainable industry.
---------------------------------------------
Message from Another You. 
Presented by The Parallel Effect for FUSE Spring 2022. Supported by FUSE Fund.
Book your tickets today.
---------------------------------------------
For more on the Parallel Effect: