Molly Hadfield Oration 2021
Colour of Activism/Blaktivism
I'd like to acknowledge this piece is written on the stolen lands of the Wurundjeri Peoples of Naarm, Melbourne. I want to acknowledge that these lands were never ceded.
I want to acknowledge that I belong to the Wiradjuri peoples of the Murrumbidya River in southwestern NSW. I want to acknowledge that I am a visitor on the lands of the Kulin nation and pay my respects to Elders past, present and emerging who have cared for, and continue to care for these lands and waters. I want to acknowledge all First Nations people in Naarm.
I want to acknowledge the activism of the late Molly Hadfield. I'd like to acknowledge her work in the areas of public housing. She fought for tenants' rights when she and her family were threatened with eviction. This began collectively when she lobbied for a school bus, then public transport, kindergartens, community centres, footpaths and roads, for residents of a newly developing outer suburb of Melbourne, Chelsea, where she and her family moved upon leaving Collingwood.
I'd like to acknowledge her activism in the struggle for workers rights. She worked in a factory that made men's underwear. This grounded her strong stand on industrial rights, carried on through decades in lobbying, marches and protests.
I'd like to acknowledge her activism in second wave feminism. From 1970, Molly Hadfield worked at the International Bookshop in Elizabeth Street, Melbourne, living during the week in inner-city Fitzroy and returning to Chelsea at weekends. She combined her bookshop work with reading the books and going to Women's Movement conferences: and running the International Bookshop stall at women's conferences. For Molly, fair wages for women incorporated the need for family friendly policies, working conditions cognisant of pregnancy and maternity needs of working women, attention paid to aged care and support for those caring for relatives with a disability. She was mindful that without these services, equal pay would not be won, for women would never be recognised as full participants in the world of paid work and worthy of remuneration commensurate with their capabilities, talents and workplace contribution.
I'd like to I want to acknowledge that many benefitted and still do benefit from the activism of the late Molly Hadfield.
I want to acknowledge that Molly lived, worked and died on stolen lands never ceded. I want to locate this statement in the broader context of skin-privilege. On the stolen lands of Australia – lands never ceded skin-privilege is white privilege.
I want to acknowledge that this was not acknowledged.
I want to acknowledge all those who were left out of this activism; and those who were and, in some cases, still are invisible in this picture.
I want to acknowledge that the First Peoples of the invaded nation of Australia are not mentioned in all of this. I want to acknowledge that in urban communities such as Naarm, First Nations peoples were and are all too often invisibilized by the settler gaze.
I want to acknowledge my Blak Grandmothers, my Blak Mother my Blak Aunties, Blak Daughters, Blak Sistas, and Blak Nieces who were not part of this scene. I want to acknowledge Blak Grandfathers, Blak Fathers, Blak sons, Blak Brothers, Blak Nephews who were not part of this scene.
I want to acknowledge that it is worth pausing to think that statements that sound universal, like 'Worker's Rights', 'Women's Rights', 'Worker's Unions' and the 'Women's Movement' are not. I'd like to ask which women celebrate International Women's Day. I'd like to acknowledge that international doesn't include the world.
These movements have an invisible colour. That colour is white.
You have to be blak to see white.
Jeanine Leane
Edwina Green, 'A Cheek, A Wink'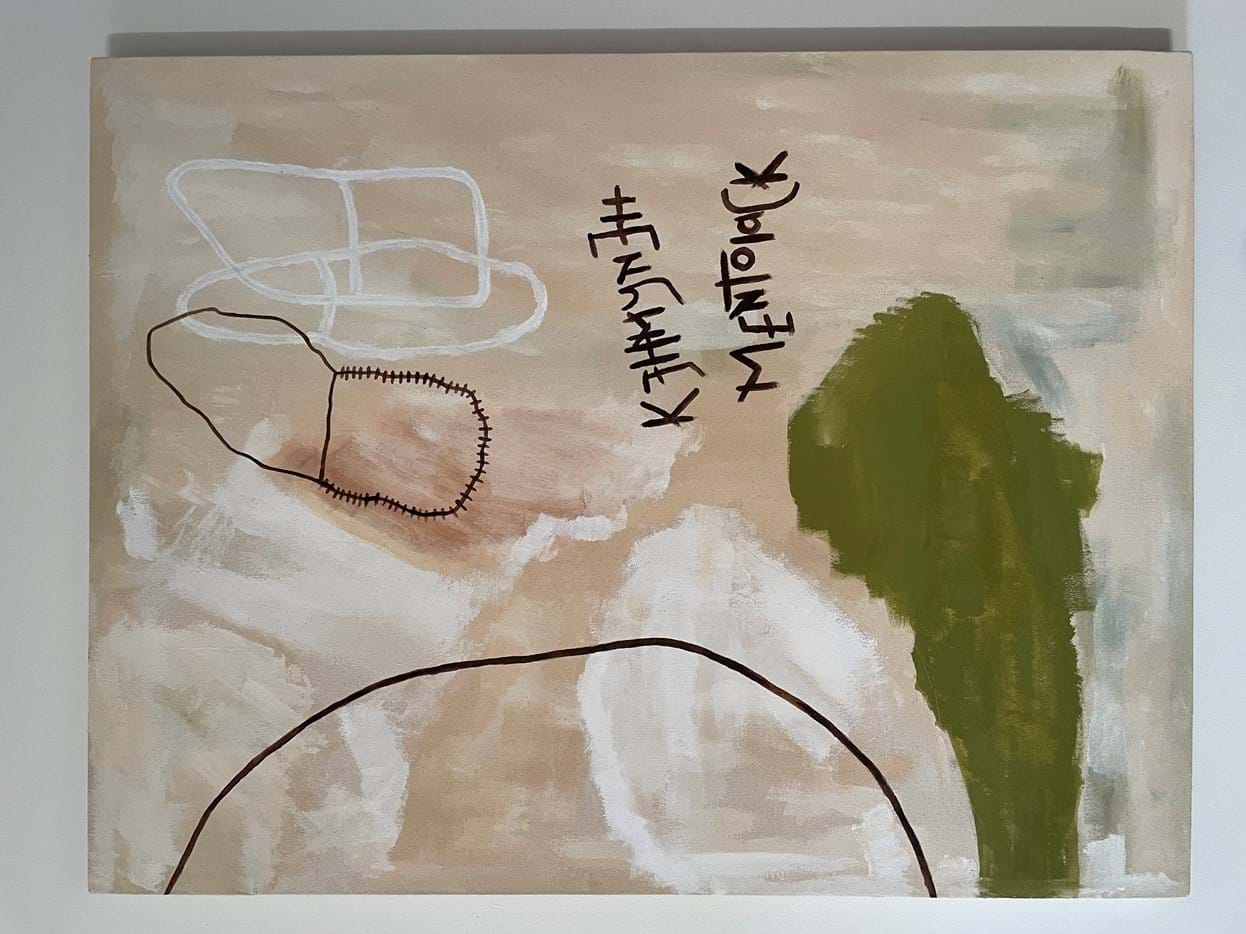 2021, Acrylic on Canvas
Selah
Selah means to reflect, to meditate, to ponder, to take enough time to enjoy, to take a moment and stop, to let it soak, to pause, to celebrate, to realize the beauty of, to extract the meaning of, to be thankful for, to take a break and breathe, to appreciate, to contemplate, to be refreshed by and to let it sink into your soul.
This poem was inspired by Palawa artist Edwina Green's words:
I think of middens
layers familial lines filled with familiarity.
Pause
Ice melts. Fires burn.
Australia is a furnace. Code red alert
painted across the horizon.
It was summer all winter. Snakes came
out in July. Body rhythms confused.
Will our children still exist by the time
this is irreversible? Will they live in a time
when the only ice in the world is pulled
from the guts of a machine?
Will parents be the ones to break
the myth that the earth was not always
burning? Or that the sea was not always rising?
That once there were trees. That once there were
islands that were swallowed by the sea.
Birds and flowers do not have clocks
or calendars. They read seasons.
People destroyed the seasons. The poles
were drilled for oil. Under the ground
bulbs and seeds might be weeping
if we could hear above the white noise.
A river is a living body that has no human rights,
a river is an archive of the Country's first people,
a river is a vein that goes to the heart of land.
Water is decoupled from land now. Water is
a commodity that can be bought and sold.
Australian rivers were full once, teaming with life.
Now the river-lands are silent, kookaburras no
longer laugh along their banks.
Hold this imprint in your retina,
don't let these images fall from your view.
Now floodplains are harvested, our rivers
have become troughs for capitalist pigs.
Decline is not the natural order of things,
the world of water markets is post-truth.
We know the land is disappearing, that
fresh water is shrinking, that saltwater rising.
Please pause to think.
Extinction is now.
Jeanine Leane