Q&A with Paco Lara
As part of FUSE@Large, Spanish flamenco guitar maestro Paco Lara performs at the Darebin Arts Centre with his incredible ensemble of dance, guitar, percussion and piano. 
Paco boasts a distinguished 30-year career in Europe and Australia, and will be launching his new album The Andalusian Guitar, featuring fine musicians from Spain and Australia. His music revolves around the distinctive Jerez style of flamenco guitar playing, and he performs it with authenticity, culture and true artistry. 
We spoke to Paco to find out more about his craft.
Hello Paco and welcome to FUSE. Please tell us a little about your artistic background.
I started playing flamenco guitar when I was eight years old, but since I was born flamenco was entering me as a language. I was born and grew up in Jerez, in Spain, surrounded by artists and good flamenco fans like my father.
I am inspired by my land, my Jerez, and the people, wine and food of southern Spain, plus all the great bohemian artists with whom I have worked and enjoyed since I was very young. I am inspired by the night in my land.
Tell us about your FUSE concert.
My concert is about a journey, the journey of my life, and my first years in Spain. It's about my international experience and my new life in Australia, all told without words, only transmitted through the notes of my guitar. I will be accompanied by two great musicians and my traveling companion, the flamenco dancer Deya Miranda. I intend to take the public to Spain and make them forget all their problems during the show, so that they get emotional and moved. That's my goal.
I would love for people to feel more attracted to flamenco music after my concert and for them to feel the emotional power of this wonderful musical genre.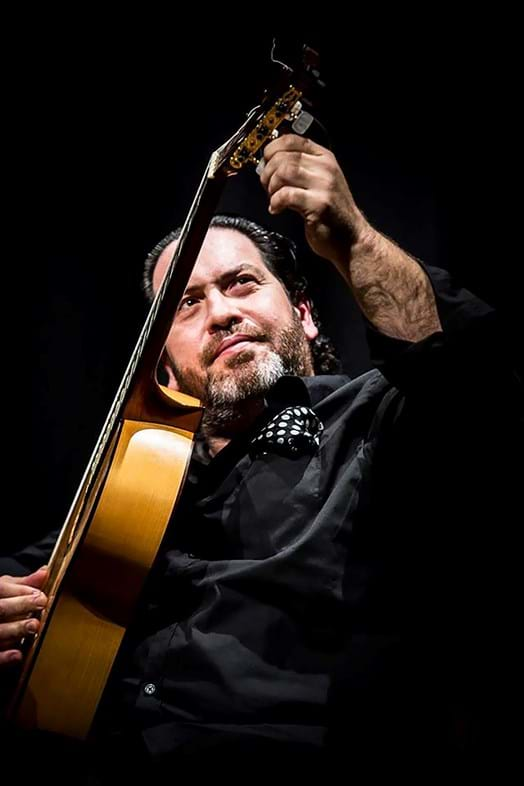 The Australian arts industry has faced a number of challenges recently. What's it like to work as a musician in this day and age?
I arrived in Australia almost five years ago, I don't really know the challenges of Australian artists in general. I can tell you mine: to continue supporting my family with my guitar as I have done before arriving here.  I want my music to be given the value and support it deserves.
Why is it easier for a doctor or an engineer to earn a living than a guitarist?  I know a lot of good doctors in Australia, but few guitarists can do what I do, so why is a doctor or other professional more valued than a top musician?  I think that's a problem and not just in Australia. Many great musicians have to look for a job in the mornings because they cannot survive only with their activity as artists.
Where can audiences find your music?
My music is on all digital platforms, but where you can find it 100% is by coming to my concerts. There is nothing comparable to live music.
-------------------
More Paco: