Stealth Mode: Q&A with Lilith Lane (on behalf of Baxter Avalon)
Q&A with Lilith Lane
Baxter Avalon in Stealth Mode is one of our more intriguing FUSE@Large events. It features new wave synth-pop urban diva Baxter Avalon, who stages high-energy micro-concerts in random places around Darebin.
How? With her wearable solar-powered sound system called STEALTH MODE. These events are shrouded in mystery, with audiences registering for information on where and when.
We reached out to Baxter for a chat, only to receive this message: "Baxter Avalon doesn't do interviews but she is happy for you to speak to her creator and manager Lilith Lane."
Over to you, Lilith.
Hi Lilith, welcome to FUSE. Please tell us about Baxter.
Baxter Avalon makes dream, synth-wave pop. She's been seen playing solo or with a rotating line-up of performers that sometimes challenge the notion of a 'gig'. Ever since I've known Baxter Avalon--since I dreamed of her a few years ago--she wanted to take her music performance to new random spaces.  
Baxter's first single, 'Luna Park', was released in 2019 and she has been testing prototypes and refining her wearable sound system for at least six months now. She has been writing heartfelt retro pop songs since she started going to gigs in Darebin.
Tell us about Baxter's wearable sound system. How does it work?
It's called Stealth Mode and it's made from recycled electronics. Stealth Mode is an off-grid contraption, so Baxter can perform with it virtually anywhere. It has been a challenging process to design but she's only been electrocuted once and thus far has blown up only one amplifier.  
The system is absolutely safe now, as long as it isn't raining. Luckily, there are plenty of undercover outdoor spaces in Darebin as a back-up.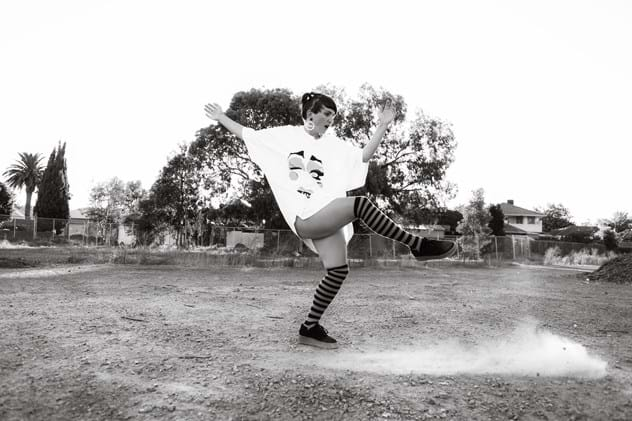 Where does Baxter find artistic inspiration?
She's inspired by the local music and arts scene and a healthy dose of 80s synth pop. Some of the local musicians (and fellow Darebin residents) she admires include Anna Go-Go, who Baxter collaborated with to create the song Reservoir Heartbeat, and Mixtape dance studio owner/performer Annabella Dickson.
Some of the pool of local talent she'll leave the studio or workshop to check out include Mo Louie, Orange Paw, House of Biscotti, Eris God Music, Jazz Party, Richie 1250 & the Brides of Christ, Double Vanity, Bruha Bee, Georgia Rodgers, Cash Savage & the Last Drinks, Ruby Jones  and The Sugar Fed Leopards. 
Now, onto Baxter's FUSE show. What can audiences expect from it?
They can expect some unexpected and never-to-be repeated performances in outdoor locations in Darebin. These will be brief, so punctuality is a must as there is only so much battery power Baxter can carry on her own. 
Baxter would love her audiences to enjoy unique performance experiences while also discovering new locations in Darebin. She also hopes her wearable sound system will remind people how much energy it takes to power everyday devices and their modern lives.
Artists did it tough during lockdown. What are the challenges and opportunities arising from that?
Most artists we speak to are challenged by the validity of their art and art in general when facing bigger issues such as the health of our planet, pandemics etc. However, the biggest opportunity for artists is to offer people a chance to view things from a different perspective through art and bring some joy to peoples lives in unexpected ways.
-----------------
According to Lilith, you can find Baxter Avalon's music in all the usual online places, though they like to support Bandcamp. Links can be found at www.baxteravalon.com.
Register for Stealth Mode dates and times.